If you're like me then you still can't believe we're in 2023! Yet, here we are and with another year comes another incredible Acumatica Summit.
While we're sure you've already secured your flights, hotel, and even your selected training sessions there's still so much to consider. Have you downloaded the Acumatica Summit mobile app (Apple download & Google Play download) so you can easily view which rooms your training sessions might be taking place and any other important notifications?
Have you browsed the list of sponsors to see who you might like to set time aside to speak with? (<-- You can also use the mobile app to easily schedule that meeting or a member from our team is always happy to help!) Have you registered for any of the additional events outside of the already scheduled activities?
With so much to prep for it's easy to let these sort of things slip away but have no fear!
We've got your full Acumatica Summit 2023 Events Guide here:
Acu-connect: expand your acumatica network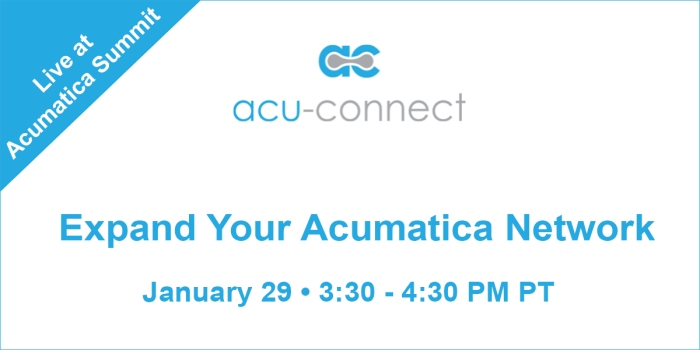 Sunday, January 29th, 2023
3:30 PM - 4:00 PM
Margaux 1&2
This "meet and greet" style session takes place right before Sunday's Welcome Reception - and you're invited! Learn more about Acu-Connect, an independent, nonprofit organization that offers networking and educational events designed to strengthen your knowledge of Acumatica and help you network with the entire Acumatica ecosystem. In this session, learn how you can jump into Acu-Connect, provide networking opportunities with Acumatica ISV partners and explore the solutions they've developed. Awards will also be handed out to dedicated community members. To learn more, visit acu-connect.com.
CHECK OUT THE ACUMATICA SUMMIT AGENDA TO LEARN MORE!
Welcome Reception
Sunday, January 29th, 2023
6:00 PM - 8:00 PM
Marketplaces (Lafite & Latour Ballrooms)
Join Acumatica and all the Summit sponsors for a fun-filled reception with food and networking in the 2 Acumatica Marketplaces. This is the first year Acumatica has expanded the Marketplace beyond one ballroom to a whooping 75,000 square feet so you know it will be a great opportunity to kick off the 2023 Summit. Plus, this year there will be a headshot
The marketplaces will also be available all day on Monday and until 5PM on Tuesday.
NO REGISTRATION NECESSARY
topgolf isv party
Sunday, January 29, 2023
8:30 PM - 10:30 PM
Topgolf Las Vegas (MGM)
Is it even a trip to Vegas if you didn't go to Topgolf? Swing into Acumatica Summit with some golf, food, and fun! Brought to you by ShipHawk, EBizCharge, and SourceDay this event is sure to get the Acumatica par-tee started🎉
Please reach out to your Account Manager for any of the ISVs mentioned above to learn how you can register.
ACUMATICA SUMMIT ISV AFTER PARTY
Sunday, January 29, 2023
8:30 PM - 11:30 PM
TAO NIGHTCLUB (Venetian)
Join us after the Welcome Reception for even more networking fun! This event is presented by a couple of our preferred vendors, including Avalara, Avidxchange, Paya, Venn Technology, and WorkforceGO!
Space is limited and invitations were sent exclusively to those who attended a past webinar to learn more but reach out to your Account Manager for any of the ISVs mentioned above to learn how you can register.
Early Morning Yoga
Monday, January 30, 2023
6:15 AM - 7:15 AM
Start your day with mindful meditation and exercise and join the Acumatica team for early-morning yoga. All skill levels are welcome. Namaste!
PLEASE UPDATE SUMMIT REGISTRATION WITH TO ATTEND
Women in Technology EVENTS
Women In Technology Luncheon
Monday, January 30, 2023
12:00 PM - 1:30 PM
Margaux 1 & 2
Each year, women of the Acumatica community come together to gain insight into how they can thrive within the technology industry.
In this talk hosted by Nada Lena, Founder, and CEO of Rise Up For You, #1 Best Selling Author, and Leadership and Career Confidence Coach, we will break down the three critical factors of being seen, being heard, and being relevant as a professional for your personal success and to elevate the success of your organization. Participants will walk away with skills for building confidence, tips for public speaking and delivering strong messaging with their team, and strategies for being seen as the expert whether you are in a corporate environment or run your own business.
Women in Technology Networking Workshop & Reception
Monday, January 30, 2023
6:30 PM - 7:30 PM
XS Nightclub (Wynn)
Gather again with the women of the Acumatica community to gain further insight into how they can thrive within the technology industry. During this cocktail hour, Nada Lena will help you develop new skills to easily connect and build new relationships with Women in Tech peers. Soon, you will gain the confidence to form valuable business bonds that will help propel you to success.
Click here to learn more about either of the Women in Tech events
PLEASE UPDATE SUMMIT REGISTRATION TO ATTEND EITHER EVENT
Attendee Celebration Party
Monday, January 30, 2023
7:30 PM - 10:30 PM
XS Nightclub (Wynn)
Come celebrate Acumatica Summit at XS Nightclub at the Wynn with wonderful food, drink, and conversations. DJ Kara will be back again this year with her amazing talents in keeping the celebration hopping throughout the evening. You will need your Acumatica Summit badge to get in so don't forget to bring it with you!
NO REGISTRATION NECESSARY
Early Morning Fun Run
Tuesday, January 31, 2023
6:00 AM - 7:00 AM
For those of you who want to burn off some of the calories from the Attendee party, join Acumatica for an early morning run down the Las Vegas strip. See the strip like you haven't seen it before, VERY EMPTY.
Be sure to meet at the main entrance lobby. Acumatica will be providing run shirts as they have in the past.
PLEASE UPDATE SUMMIT REGISTRATION TO ATTEND
closing reception
Tuesday, January 31, 2023
3:30 PM - 6:00 PM
Located in the foyer outside of the Marketplace don't miss your chance to c
loseout Summit with live music, cocktails, food, and the opportunity for some last minute peer networking.
Acumatica Summit is the perfect opportunity to network with like-minded business individuals, learn more about the Acumatica product, and have tons of fun doing so! Feel free to read through Acumatica's Everything You Need to Know Before Acumatica Summit 2023 blog post for more information.
And as always, if you're unable to attend, Acumatica offers a virtual experience with daily livestreams!
See you at the can't miss cloud ERP event of the year!