Acumatica is no stranger to awards. Their dedication to provide customers and partners with an outstanding SaaS product for ERP led them to impressive recognition by notable industry analysts throughout several years.
That's why it's no surprise they've been named The Best SaaS Product for ERP by The SaaS Awards!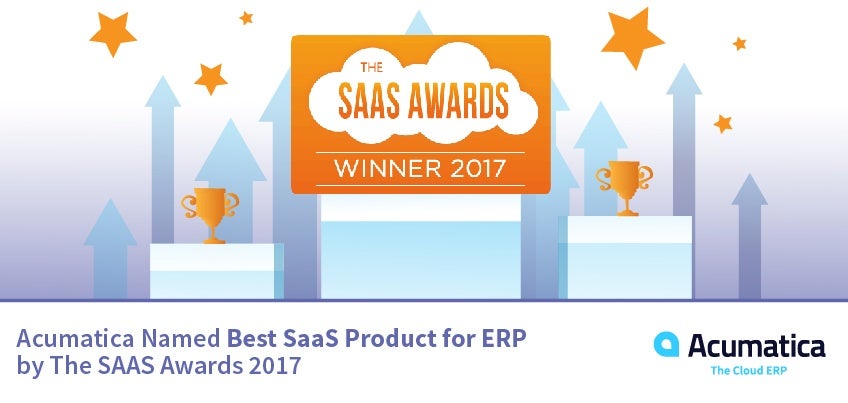 The SaaS Awards, Acumatica, and being the best SaaS Product for ERP
The SaaS Awards – along with their partner program, The Cloud Awards – has been recognizing "excellence and innovation" in the cloud computing industry since 2011. This recognition platform identifies leading Software as a Service (SaaS) providers across the globe.
To identify these leading SaaS Product for ERP providers, a panel of judges and industry insiders take a holistic view of the ERP solution. They give a top-level overview of the benefits the ERP solution provides and the role of ERP in tying together disparate business functions.
Being the only true Cloud ERP platform shortlisted, Acumatica's ERP product uses the latest cloud and mobile technology to give a real-time and complete view of your business.
Users are able to take advantage of a full suite of business management applications to integrate and automate business processes, along with a modern, consumption-based licensing model that allows any size organization to afford a complete and unconstrained cloud ERP solution.
Learn more about Acumatica's SaaS ERP
Acumatica is committed to constantly improving their cloud ERP platform and making it the best ERP solution on the market. That's why they offer two major releases every year to provide the latest features, functions, tools, and capabilities to improve usability & productivity -- all based on user feedback!
Ready to see what Acumatica Cloud ERP can do for you?
Fill out the form to the right and one of our team members will be sure to reach out!